Meeting and Newsletter Photos
September 2023 Meeting
Joining us at the September 5, 2023 meeting was certified quilt appraiser, Cindy Stewart. Cindy is based in TN and has been appraising quilts for a number of years. She shared her experiences with quilt appraisals and gave helpful information concerning the care of quilts. She and guild member, Sue Sweet, are shown in the photo with Sue's magnificent crazy quilt which Cindy appraised following the program.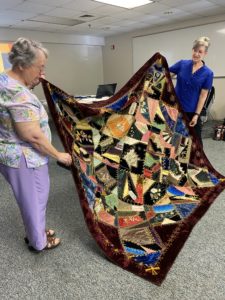 July 2023 Meeting
MLQG member, Darby Logan, presented her collection of rag dolls at the July 2023 workshop. Darby also shared a doll pattern with members she had created. Dolls can be made and tucked into a pocket sewn onto a donation quilt. Sweet!

June 2023 Meeting
MLQG held its June  2023 luncheon with installation of officers and sharing of the "Flamingo Challenge". Pictured are some of the flamingo quilts made by members and destined to community agencies as donations for those who need a quilt hug.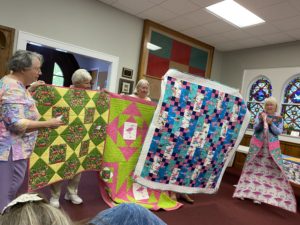 September 2020 Watauga Democrat Article
Susan Sweet with Watauga Quilt to be displayed at the new Watauga County Community Recreation Center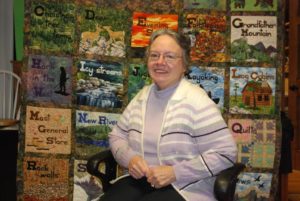 September 2019 Meeting
July 2018 Meeting
June 2018 Installation Luncheon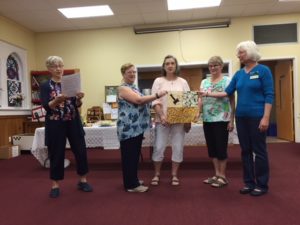 May 2018 Meeting
April 2018 Meeting
March 2018 Meeting
February 2018 Workshop – Fabric Manipulation